SERVICES
Cosmetic Dentistry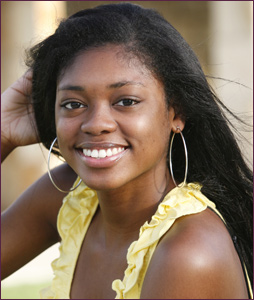 You can look good and have a healthy smile. Most people who are unhappy with the appearance of their teeth do not realize the numerous ways cosmetic dentistry can heal a smile. Cosmetic dentistry can correct crooked teeth, spaces between your teeth, stained or discolored teeth, chipped teeth, broken or missing teeth and having a "gummy" smiles. Trilogy Dental creates a customized treatment plan for you, based on your age, goals and where you are financial comfortable level.
Tooth Whitening
You can have the confidence that comes from a bright, white smile. If you are happy with the alignment and spacing of your teeth, a teeth whitening procedure may be all that separates you from a dazzling smile. Tooth whitening is safe, effective and long lasting. Your home whitening kit involves a special tray that is customized to fit over your teeth, to evenly disperse prescription whitening gel, which is inserted into the tray before you wear it. You can expect the entire home whitening process to take between two and four weeks, leaving you with a whiter, brighter smile. With home whitening, you can reuse your trays to touch up your smile whenever it needs a little boost. If you are thinking of other cosmetic improvements, such as crowns, porcelain veneers or replacing old discolored fillings, consider whitening your teeth first. Any future restorations will be matched to your whitened teeth, giving you fantastic results.
Opalescence
Opalescence® Take Home Whitening Gels allow you to whiten your teeth at your convenience - in a safe, effective, and customized way.
Safe
Opalescence® Take Home Whitening Gels are available at Sammamish Dental and we will supervise your treatment from initial consultation through completion. The gel won't migrate to gums, and most formulations include Potassium Fluoride (PF), which helps to improve oral health by strengthening enamel, decreasing sensitivity, and offering increased cavity prevention.
Effective
Powerful, prescription-strength Opalescence® Take Home Whitening Gels are available with 10%, 10%PF, 15%PF, 20%PF, and 35%PF carbamide peroxide. Opalescence® Take Home Whitening Gels can provide results after just one night; though expect to see results in about a week.
Customized
Opalescence® Take Home Whitening Gels are delivered via customized bleaching tray. Your Sammamish dentist will create this tray from an alginate impression of your mouth; this customization is part of why Opalescence® Take Home Whitening Gels are so effective. You can further customize your experience by choosing from the five formulations and three flavors (mint, melon and regular).
Invisalign
You can straighten your teeth without metal braces. Invisalign™ is an FDA approved system that uses clear, removable aligners to incrementally straighten your teeth. There are no uncomfortable brackets or wires, and because you remove the aligners to eat and drink, there are no food restrictions or problems with brushing or flossing.
Invisalign™ uses 3D computer imaging to map out your entire treatment plan in advance, allowing you to see what your teeth will look like before you begin treatment. Then, using the imaging, Trilogy Dental will create a series of custom aligners that will move teeth incrementally. You will replace each aligner every two weeks with the next aligner in the sequence. Average treatment time from initial teeth position to brilliant, straight smile ranges from 9 to 15 months. The best part is: most people will never notice that you are undergoing treatment!
Porcelain Bridges
When teeth are missing, your smile undergoes significant changes. Missing teeth can cause you to chew differently, may cause mouth pain, and as your remaining teeth work to compensate for the loss, gaps and spaces form that only make the situation worse. A porcelain bridge, custom designed by Trilogy Dental, keeps your smile aligned and your bite functional. Bridges are anchored to existing teeth or crowns on either side of the missing tooth. They are semi-permanent, meaning they can only be affixed or removed by a dentist and are a long-term restorative solution to your damaged smile.
Porcelain Crowns
You can erase years of wear and tear with porcelain crowns. Trilogy Dental uses a tooth-like crown made of porcelain to restore your tooth after the decay has been removed. Crowns are also used to restore chipped teeth, broken teeth, gaps in teeth and other damage. Also called "caps," porcelain crowns mimic natural looking teeth in shape and color.
Tooth-Colored Fillings
Are you embarrassed about your smile because of decayed, disfigured or discolored teeth? You may be a good candidate for composite resins, also known as tooth-colored fillings or restorations. When the decay has been taken out of the tooth, it is replaced with "filling" material. In the past, amalgam (silver) fillings were placed into the cleaned out portion of the tooth. With new advancements in dentistry, you can now have tooth-colored fillings instead of silver fillings resulting in a long lasting, brighter, whiter smile. The new tooth-colored material is bonded to the teeth for a stronger restoration.
Bonding
Bonding is a tooth-colored material applied and adhered to the surface of the tooth, often without reducing the structure of the tooth. The bonding material is sculpted by your dentist so that it resembles a natural tooth, correcting chips, and broken, stained or discolored teeth and in some cases correcting gaps. It is less of an investment than veneers but like a natural tooth, the resin may stain with the use of coffee or other staining foods.