SERVICES
Restorative Dentistry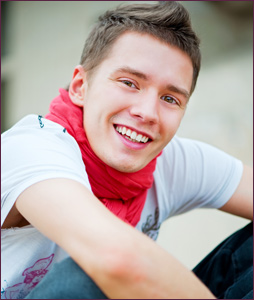 Your smile today may not be as brilliant as it once was. Years of wear and tear, injury, or poor care can hurt the look and function of your teeth. Trilogy Dental changes lives every day through restorative dentistry. Rejuvenate your smile today!
Porcelain Crowns
You can erase years of wear and tear with porcelain crowns. Trilogy Dental uses a tooth-like crown made of porcelain or gold to restore your tooth after the decay has been removed. Crowns are also used to restore chipped teeth, broken teeth, gaps in teeth and other damage. Also called "caps," porcelain crowns mimic natural looking teeth in shape and color.
Porcelain Bridges
If you've lost a tooth, a large gap in your smile can create significant problems for your dental health if left uncorrected. Gradually, your bite pressure may shift to other parts of your mouth to compensate for an inability to chew efficiently in the area of the missing tooth. Neighboring teeth may begin to move into the gap resulting in discomfort, pain and more problems in the future. After some preparation of the two neighboring teeth, crowns are created for them. A prosthetic tooth, or pontic, is fused between the crowns. Fixed bridges literally "bridge the gap" in your smile. Trilogy Dental creates a functional, life-like bridge to correct your smile, restore your bite and alleviate your discomfort.
Invisalign
You can straighten your teeth without metal braces. Invisalign™ is an FDA approved system that uses clear, removable aligners to incrementally straighten your teeth. There are no uncomfortable brackets or wires, and because you remove the aligners to eat and drink, there are no food restrictions or problems with brushing or flossing.
Invisalign™ uses 3D computer imaging to map out your entire treatment plan in advance, allowing you to see what your teeth will look like before you begin treatment. Then, using the imaging, Trilogy Dental will create a series of custom aligners that will move teeth incrementally. You will replace each aligner every two weeks with the next aligner in the sequence. Average treatment time from initial teeth position to brilliant, straight smile ranges from 9 to 15 months. The best part is: most people will never notice that you are undergoing treatment!